The summer is a great time to expand your resume with supplemental learning experiences and employment opportunities.
​Work with your counselor to decide which opportunities are right for you!
---
City of Raleigh Summer Camp Positions
Summer is right around the corner at City of Raleigh! We are looking forward to an amazing summer camp season and would love for you to come work for us.
Here are the links to the summer positions that I directly hire for:
Youth Programs Camp Counselor Job Posting
Counselors much be at least 17 years old by the start of camp and have reliable transportation. Experience working with youth ages 6-12 is a plus. All counselors must be available for training before camp begins. This job requires counselors to actively participate with campers in a recreational setting which includes the outdoors and lift up to 25lbs.
Youth Programs Camp Director Job Posting
​

Directors must be 18 years old with reliable transportation. Experience supervising staff and working with youth ages 6-12 is a plus. All directors must be available for training before camp begins. This job requires director to actively participate with campers and staff in a recreational setting which includes the outdoors and occasionally lifting 25lbs or more.

​

​
---
​Project SEED, a program of the American Chemical Society
Program Description:
The American Chemical Society (ACS) Project SEED program gives economically disadvantaged high school students a unique opportunity to spend 8 to 10 weeks in the summer working side-by-side with scientists to conduct hands-on research. Find out how you can get exposure to chemistry, prepare for college, and learn about science career paths.
Eligibility Requirements
Rising junior and senior high school students
Must have successfully completed one high school chemistry course
Family income does not exceed 200% of the federal poverty guidelines (copies of 2014 tax forms are required)
Other responsibilities
Students will be expected to complete daily work the research program, write final reports and make presentations.
Students must provide their own transportation to the research sites in Raleigh and RTP.
Student Stipend
Students in year one (SEED I) who meet all program expectations receive a $2,500 fellowship award.
Successful students may be invited to apply for a second year, either continuing the same research or starting a new project. SEED II students receive a $3,000 fellowship award.
​Please visit the ACS national and local websites for more information
http://www.acs.org/content/acs/en/education/students/highschool/seed.html
http://www.thehamner.org/partnerships/nc-acs-project-seed/
For more information about applying, contact
Dr. Laura Sremaniak
at
Laura_Sremaniak@ncsu.edu
Tel: 919-515-2937
---
Summer Ventures in Science and Mathematics
This program provides an opportunity for students to foster identifies interests in science and mathematics with its enriched program in a university research setting. Summer Ventures continues to attract NC's most motivated and academically prepared students.
The program's competitive entry is by application ONLY. Selected students participate in a rigorous, four-week academic program intended to reward and stimulate students who have already demonstrated their commitment to academic growth and development in science and math. Student should be aware that the admissions committee evaluates both their academic record and their motivation to pursue science and mathematics activities beyond the classroom. This is a state-supported initiative and there are NO program costs for participants!
Students are encouraged to apply if they demonstrate both the interest and ability required to be successful in this science and mathematics research program. Applications are to be completed online and can be accessed from
http://www.summerventures.org/
---
Abbey Road Programs
Founded in 2000 by Stanford University Alumni, Abbey Road Embarked on a mission to provide high quality, life-enriching, educational summer programs for teens.
Nearly two decades later, we remain on trajectory, continuing to satisfy our own passion for cultivating cross-cultural understanding, personal growth, and academic enrichment for our students, and seizing every opportunity to improve upon all aspects of their summer experiences each year.
Since Our humble beginnings of specializing in Language and Cultural immersion, we've expanded our experiential programs to include Art, History, Film, Fashion, Photography, SAT/ACT prep, College Prep, International Relations, Community Service, and other subjects, all which take place across different nations, in some of Europe and North America's most beautiful cities & regions.


https://www.goabbeyroad.com/
---
---
Summer Accelerator at North Carolina School of Science & Mathematics
All Accelerator and Early Accelerator courses are designed to provide students from around the country and the world the opportunity to come together in diverse groups to live and learn together while gaining hands-on experience with intriguing topics in science, technology, engineering and math. Accelerator courses are conducted over three weeks. The first two weeks take place virtually, at the student's own pace. Please choose one course. If you would like to register for more than one week, you may, but each course is it's own Accelerator program.
For more information and additional course listings, visit:
https://www.ncssm.edu/summer-programs/accelerator/accelerator-10th-12th​
---
---
Powered by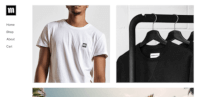 Create your own unique website with customizable templates.