The summer is a great time to expand your resume with supplemental learning experiences and employment opportunities.
​Work with your counselor to decide which opportunities are right for you!
---
Summer Ventures in Science and Mathematics
This program provides an opportunity for students to foster identifies interests in science and mathematics with its enriched program in a university research setting. Summer Ventures continues to attract NC's most motivated and academically prepared students.
The program's competitive entry is by application ONLY. Selected students participate in a rigorous, four-week academic program intended to reward and stimulate students who have already demonstrated their commitment to academic growth and development in science and math. Student should be aware that the admissions committee evaluates both their academic record and their motivation to pursue science and mathematics activities beyond the classroom. This is a state-supported initiative and there are NO program costs for participants!
Students are encouraged to apply if they demonstrate both the interest and ability required to be successful in this science and mathematics research program. Applications are to be completed online and can be accessed from
http://www.summerventures.org/
---
---
Summer Accelerator at North Carolina School of Science & Mathematics
All Accelerator and Early Accelerator courses are designed to provide students from around the country and the world the opportunity to come together in diverse groups to live and learn together while gaining hands-on experience with intriguing topics in science, technology, engineering and math. Accelerator courses are conducted over three weeks. The first two weeks take place virtually, at the student's own pace. Please choose one course. If you would like to register for more than one week, you may, but each course is it's own Accelerator program.
For more information and additional course listings, visit:
https://www.ncssm.edu/summer-programs/accelerator/accelerator-10th-12th​
---
---
Powered by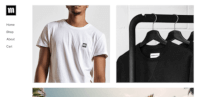 Create your own unique website with customizable templates.